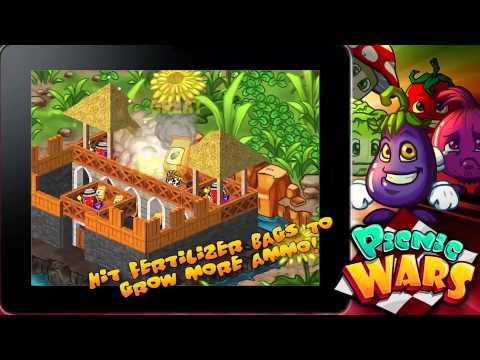 If there's one thing in the world worth fighting for, it's declaring once and for all which is the finer produce: fruit or vegetable. Discover the surprising truth for yourself in this comic catapult-based action game that's as addicting as it is unconventional.
Over 60 levels spread across two distinct campaigns will keep you playing for hours.
A unique isometric point of view that not only looks great, but figures into the gameplay, too.
Twelve types of launchers give you endless options to destroy the opposing side's fortresses.
A wide variety of fruit and vegetable ammunition opens up the gameplay to infinite possibilities.
"...Picnic Wars HD is still an extremely playable game that looks and sound great, and with 64 levels on offer it won't be conquered too quickly either."

— 148Apps, 4/5
"The graphics and sounds are simply brilliant and without any doubts this game is just fantastic."

— AppCroc
"I have no negative comments regarding Picnic Wars."

— App-Score, 10/10