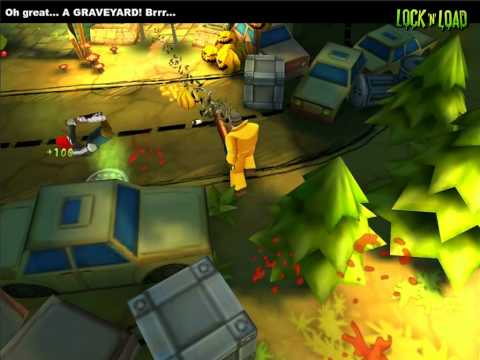 Like the greatest action flicks of yore, the setup here is simple: a bad guy (a demented and twisted girl in this case) is out to conquer the world, and you've gotta stop'em. How this game raises the stakes, though, is through its eye-melting graphics, electrifying weapons, and a scrupulous level of polish. It doesn't get better than this, folks.
An abundant amount of content, including two full campaigns plus challenge maps.
Scorching 3D graphics with wicked art direction and incredible lighting effects.
A satisfying selection of weapons, from your trusty shotgun to the always-reliable chainsaw.
Over 30 types of enemies will keep you on your toes and add another layer of depth to the action.
Universal app that plays on both your iPad and iPhone.
"Gamers remotely interested in dual stick shooters owe it to themselves to check out this title."

— TouchArcade, 4/5
"...Chillingo's blast fest definitely helps relieve some stress after a tough day at work."

— Modojo
"...Lock 'n' Load is an easy choice for anyone that wants a solid, story driven game that packs a punch."

— AppTudes, 4/5
"...I'd definitely say Lock 'n' Load is a worthy new dual-stick shooter."

— Appolicious
"...thanks to its high production value courtesy of Chillingo, it is better than many games we have seen before."

— 148Apps, 4.5/5
"Even those who thought there were done with the dual-stick genre will find something to enjoy in it."

— TUAW, Daily iPhone App
"Violent, stupid, and soaked in horror movie in-jokes, Lock 'n' Load is a nicely packaged chunk of mindless fun."

— Pocket Gamer, 8/10
"Lock 'n' Load is just the sort of fun diversion older action fans can sink their teeth into."

— Slide To Play, 3/4