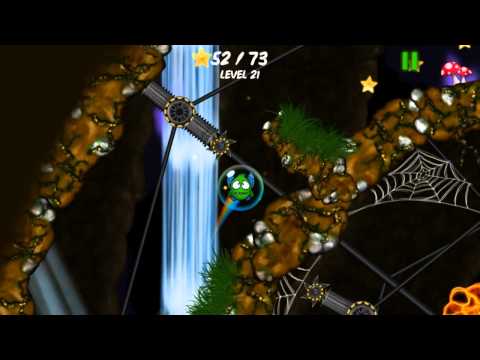 Don't let the whimsical title and lovable character design fool you — this game creates a feeling of intense drama and suspense through a stirring soundtrack and claustrophobic caverns. That it's incredibly fun and well designed only adds to the unforgettable experience. Great stuff.
A stirring musical score that heightens the emotion and drama of the adventure.
The option to choose between touch- and accelerometer-based control schemes any time during the game.
Over 20 expertly-designed levels across four worlds will challenge as well as surprise you.
Universal app that plays on both your iPad and iPhone.
"...there's no denying how enjoyable Harry the Fairy is to play, listen to and look at."

— 148Apps, 4/5
"...its gameplay is extremely fun and unique."

— App-Score, 8/10
"...with the catchy music, the high quality graphics, and the myriad of achievements to earn, this is a game that is worth downloading."

— AppAdvice
"I hope to see more games like Harry the Fairy in the coming months."

— Family Friendly Gaming, 86/100
"...Harry the Fairy will amuse with tight tilt controls and the relaxing, floaty feel of its gameplay."

— App Spy, 4/5
"In short, this game's a cracker!"

— AppCroc
"...there's some excellent – and excellently controlled – free-flying obstacle course action to be found here."

— iFanzine
"With a winning combination of exceptional graphics, lovable characters and addictive gameplay, Harry the Fairy is a great add to any casual gamer's library."

— AppTudes, 4/5
"...it's not likely to be a title you would regret playing."

— Slide To Play, 3/4