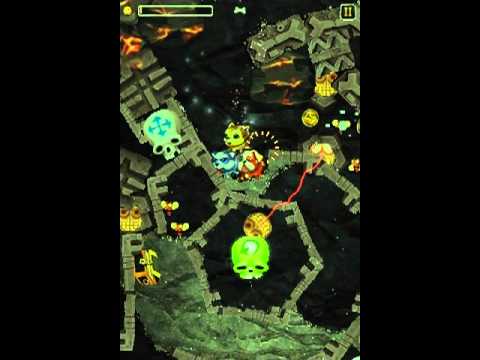 When three precocious puppies find a map leading to buried treasure, we don't have to tell you what happens next. Help this trio of charming pooches dig deep into the earth while avoiding traps and picking up power-ups, all in the name of good ol' fashioned gold. So cute, so fun.
Over 60 levels across five worlds will take you on a journey through dense forests, fiery volcanoes, and more.
Simple touch-based controls make the game intuitive and fun for players of all skill levels.
Bonus objectives in each stage add a high level of replayability — perfect for completionists.
Delightful graphics and sounds bring the worlds and characters to life.
"With amazing controls, super tutorials and cute characters the game will be enjoyed by people any age, whether they are a full on gamer or just a kid."

— App-Score, 10/10
"Chillingo have a track record of publishing cute and entertaining casual games and with Diggin' Dogs they've done it again."

— TouchArcade
"If you're looking for another game that will mollify your completionist urges, look no further."

— Gamezebo
"If you are looking for a fun puzzle game for your iPhone or iPod then this one is certainly worth a look."

— Internet Gumshoe, 84/100
"I really enjoyed playing Diggin' Dogs."

— Family Friendly Gaming, 92/100
"...Diggin' Dogs helped me ignore my illness, and therefore receives a hearty recommendation."

— Modojo, 4.5/5
"Each level is a fun adventure on its own, and there's always something new to discover to keep you digging."

— AppleNApps, 4/5
"Diggin' Dogs has a surprising amount of depth, and the clever developers of the game definitely keep you on your toes."

— Slide To Play, 3/4
"If you are looking for a challenging puzzler with a lot of game time, and cute dogs you can't go wrong with Diggin' Dogs."

— TouchGen
"The unique gameplay, variety of challenges and treasures offer enough challenge and intrigue to have the player entertained for a long time."

— 148Apps